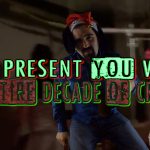 In years past we have usually done the #12DaysofCROMESS … this year we did not. We focused on three great things:
Red Hill Ramblers' 2019 Christmas Special – FaceBook Live Stream
Our decade recapper of the past 10 years of CROMESS and Cromaidz Productions! – We started this all during Christmas of 2010, and now here we are in 2019.
A NEW RED HILL RAMBLERS HOLIDAY SINGLE!!!
Red Hill Ramblers released a new Holiday song- Treats Under The Tree
CromaidzProductions.com in honor of CROMESS 2019 presents you with an entire decade of cromess! Yes it's a clip real but it includes some narration from Cromaidz founder and owner Joe Covell. We will relive the past 10 years of CROMESS fun, including 2019 with Red Hill Ramblers. We have some big plans for the roaring 20s coming, so don't let this clip show full you, we're far from done baby! Enjoy and have yourselves a very merry CROMESS
The Red Hill Ramblers 6 Minute Christmas Eve 2019 Extravaganza!
The entire decade of CROMESS in under 1 minute: